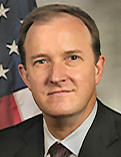 ABOVE: Kevin Wolf
---
Do you want to talk to an important official at the Bureau of Industry and Security about export reform? Well, here's your chance. BIS is resuming its weekly teleconferences with Kevin Wolf, the Assistant Secretary of Commerce, on December 12, 2012, at 2:30 p.m. EST. The dial-in number for the conference calls is: 1-888-455-8218 and the participant code: 6514196. Callers should dial in 10 minutes early.
These calls will occur weekly on Wednesdays (except for December 26 when I hope the Assistant Secretary and this blog's readers will all be spending a well-deserved Christmas vacation at home with family and friends). The purpose of these calls is to provide information on export control reform initiatives and to assist parties in preparing comments in pending rulemaking proceedings related to export reform.
There's only one small catch: Questions for Kevin should be sent in advance of the call to oesdseminar@bis.doc.gov with a subject line of "teleconference questions." So, if you were planning to ask Mr. Wolf about his thoughts about what will happen in the next season of "Mad Men" or some other topic of burning, but non-export, interest, don't bother to push the send button. I have it on good authority that public comment on export control reform is both wanted and valued by BIS, so don't pass up this opportunity.

Permalink
Copyright © 2012 Clif Burns. All Rights Reserved.
(No republication, syndication or use permitted without my consent.)