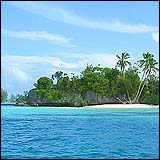 As reliable as the appearance of fall foliage and jack-o-lanterns,  another fall ritual took place earlier this afternoon in New York City. The United Nations voted, yet again, to condemn the U.S. ban on exports to Cuba, as it has reliably done for the past 21 years. This year the vote was 188-3 against the embargo; last year it was 186-2. The countries voting against this year were the United States (duh!), Israel and Palau. Last year Palau chose to abstain, but as the former U.S. possession appears set to elect a new President, perhaps they thought it wise to curry a little U.S. favor.
Ronald Godard spoke before the Assembly on behalf of the United States defending the embargo, and he did so with a curious argument. Rebutting Cuban claims that the sanctions caused economic injury to Cuba, Godard blamed the island's financial woes on the "economic policies that Cuban government has pursued for the past half century." But wait, if the sanctions aren't having any financial impact on Cuba, what exactly is our purpose for imposing them? We can't take Cuba's cake and have them eat it too.

Permalink
Copyright © 2012 Clif Burns. All Rights Reserved.
(No republication, syndication or use permitted without my consent.)