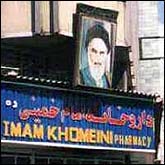 ABOVE: Pharmacy in Iran
---
The Washington Post reprinted on Tuesday a Financial Times report that indicated that U.S. sanctions on Iran were making it difficult for Iranian doctors and hospitals to provide health care to sick patients.
The tightening of U.S. banking sanctions against Iran over its nuclear program has had an impact on all sectors of the economy but is increasingly hitting vulnerable medical patients as deliveries of medicine and raw materials for Iranian pharmaceutical companies are either stopped or delayed, according to medical experts.
But, but, you ask, how can that be? Doesn't U.S. law permit exports of medicine to Iran even under the new sanctions? Well, yes, in theory, but in practice, maybe not. The article points out difficulty in delivering raw materials to pharmaceutical factories in Iran as one factor, but U.S. law has only permitted exports of medicines, not raw products for medicines, so there's nothing new here.
Perhaps it's this:
"We hold a license from the OFAC, but our imports have dropped by more than half while we pay much more than before," one importer said.

"The exemption of medicine from sanctions is only in theory," said another. "International banks do not accept Iran's money for fear of facing U.S. punishment."
It seems reasonable to conclude that U.S. sanctions have a chilling effect which extends beyond their actual scope. Even if banks might be permitted under General License A to deal with certain Iranian financial institutions in connection with exports of medicine, banks may well decide that parsing the General License, and the risk of punishment if mistakes are made, makes the enterprise more trouble than it's worth. Not to mention, of course, that this General License would only cover licensed exports of medicine from the U.S. to Iran and not exports of medicine to Iran from other destinations.
And even if the sanctions that can be imposed on foreign banks under the Comprehensive Iran Sanctions, Accountability and Divestment Act of 2010 ("CISADA") seem limited to specific situations that don't involve financing medical exports, the recent action by OFAC in blocking two foreign banks for their dealings with Iran may make banks worry about the risk. In that instance, OFAC appeared to be saying that transactions in the petroleum sector could be seen as aiding Iran's nuclear program, which is one of the bases for imposing CISADA sanctions. By that logic, all transactions with Iran might be seen as aiding the nuclear program, so what bank is going to want to run the risk of financing any exports to Iran?

Permalink
Copyright © 2012 Clif Burns. All Rights Reserved.
(No republication, syndication or use permitted without my consent.)