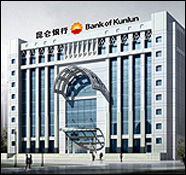 The Office of Foreign Assets Control ("OFAC") today applied sanctions under the Comprehensive Iran Sanctions, Accountability and Divestment Act of 2010 against the Bank of Kunlun in China and the Elaf Islamic Bank in Iraq. Under these sanctions, U.S. financial institutions are "prohibited from opening or maintaining a correspondent account or a payable-through account" for the two banks, effectively cutting them off from foreign exchange and the U.S. financial system. This is the first time these sanctions have been applied. OFAC does not supply details on the basis for these actions other than to state that they were imposed under 561.201 of its Iranian Financial Sanctions Regulations.
Back in April, the Wall Street Journal identified Kunlun as significant player in providing financial services to Iran. Kunlun, which is controlled by state owned China National Petroleum Corp., on its website identifies the petroleum and petrochemical industries as its main customer base. Sanctions under section 561.201 are aimed at financial institutions that assist the Government of Iran to acquire WMD or support terrorist organizations, unlike 561.203 which is directed at foreign persons that facilitate transactions with blocked Iranian financial institutions such as the Central Bank of Iran or Bank Tejerat. Therefore, it seems reasonable to surmise that OFAC is taking the broad position that banks that help Iran sell petroleum products are, at least indirectly, furthering Iran's nuclear program.

Permalink
Copyright © 2012 Clif Burns. All Rights Reserved.
(No republication, syndication or use permitted without my consent.)