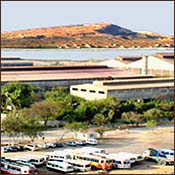 Kesco Shipping Corporation and Multi-Link Container Line, a freight forwarder and a shipping line respectively, have agreed to pay $28,000 to the Bureau of Industry and Security ("BIS") to settle charges that they aided an unlicensed export of scrap steel, classified as EAR99, to Peoples Steel Mill in Karachi, Pakistan. Peoples is on the BIS Entity List, and a license is required for all exports of EAR99 items to Peoples (although there is a presumption of approval for all such license requests). Peoples Steel Mill was part of the A.Q. Khan nuclear weapons network in Pakistan, and they are still paying the price.
The settlement papers do not reveal the identity of the exporter or the fate awaiting the exporter as the principal culprit in this matter. But this is not a case simply of vicarious liability since it appears that both Kesco and Multi-Link knew where the shipment was headed and simply failed to check the Entity List. Where the Internet puts that list just a few keystrokes away for anyone with a connected computer, it is hard to get all misty-eyed for Kesco and Multi-Link here.
As we noted in a previous post, recent settlement agreements have started to contain a requirement that offenders go to the export equivalent of drunk driving school. In this agreement, both companies are obligated to have an officer or export compliance manager undergo export training within one year of the agreement. One wonders whether soon the training will require the compulsory viewing of the export version of Signal 30, complete with gruesome photographs of the aftermath of export derelictions.

Permalink
Copyright © 2012 Clif Burns. All Rights Reserved.
(No republication, syndication or use permitted without my consent.)