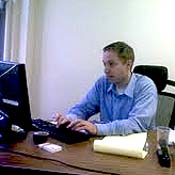 ABOVE: Zachary Sanders
---
A long time ago in a galaxy far, far away, a young American teaching English in Mexico decided to take a trip to Cuba. Today, after fourteen years of legal maneuvering with the Department of Treasury's Office of Foreign Assets Control ("OFAC"), the young American, now a middle-aged lawyer, threw in the towel and agreed to give OFAC $6,500 to atone for his sins.
We reported on the travels and travails of Zachary Sanders, harmless tourist and OFAC target, back in 2009, and you can get more of the details of what originally happened in that post. The shorter version is that by the time OFAC got around to filing anything against Sanders, the five-year statute of limitations on his travel to Cuba had passed so they went after him for not answering a letter demanding incriminating details of his jaunt to the most dangerous country ever on the face of the earth. (Apparently OFAC's copy of the Bill of Rights had the Fifth Amendment excised somewhere along the way.)
OFAC won here not because it was right but because it was persistent, not because it was fair but because it had an unlimited amount of the taxpayers' money and Sanders had his salary as a public interest lawyer, not because it was defending the country against terrorists but because it bore a grudge against a little guy who wanted to drink a daiquiri at El Floridita.
/

Permalink
Copyright © 2012 Clif Burns. All Rights Reserved.
(No republication, syndication or use permitted without my consent.)