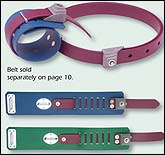 A Wisconsin-based company, with the appealing name Humane Restraints, Inc., recently agreed to settle charges that it exported without licenses various restraining items worth approximately $15,000 and classified under ECCN 0A982. Pursuant to the settlement agreement, Humane Restraints agreed to a $465,000 fine and a two-year export denial order. All but $50,000 of the fine was suspended contingent upon no further export violations or violations of the denial order. Additionally, the denial order exempts exports to Canada from its prohibitions.
The charging letter describes the exports as "various restraint devices, including, but not limited to strait jackets, bed restraints, and wrist and ankle restraints." Bed restraints? Yes, you read that right: bed restraints. BIS is saying that bed restraints require export licenses. The problem here is that the Note to ECCN 0A982 states that it "applies to restraint devices used in law enforcement activities." The Note explicitly excludes "medical devices that are equipped to restrain patient movement during medical procedures," which seems to me to cover bed restraints directly.
Perhaps BIS is thinking that the ECCN covers bed restraints because law enforcement might sometimes use them, even if they are principally used by hospitals and medical facilities. If that's the case, the ordinary cable ties that you buy at Target are then ECCN 0A982 because police often use cable ties as an alternative to hand cuffs. They might use rope, twine and belts too, when handcuffs and cable ties aren't at hand. Even so, I am aware of at least one instance in which BIS has issued a CCATS on cable ties as EAR99 even though they could be, and are, used by law enforcement.
This all underlines the inherent vagueness of ECCN 0A982. Of course, there is a fairly central core of items that are clearly covered by that ECCN. Handcuffs, for instance, clearly fall within this ECCN. (Adventurous honeymooners under the thrall of Fifty Shades of Grey and headed for Bermuda might want to keep this in mind!) And some of the items exported by Humane Restraints seem to fall within the group of things clearly covered by the ECCN, such as ankle hobbles.
Probably the ultimate reason the Humane Restraints was whacked so badly by BIS involved its exports of straitjackets. Again, I don't think that straitjackets are devices used in law enforcement activities. But, according to the settlement documents, Customs seized an export of one straitjacket, thereby putting Human Restraints on somewhat clearer (if dubious) notice that straitjackets were covered by ECCN 0A982, and yet Humane Restraints exported three more straitjackets without licenses after that seizure. And that, you might say, was all she wrote.

Permalink
Copyright © 2012 Clif Burns. All Rights Reserved.
(No republication, syndication or use permitted without my consent.)