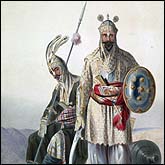 On July 6, the White House signed a memorandum designating "the Islamic Republic of Afghanistan as a major Non-NATO Ally." This is the first MNNA designation since 2004 when Kuwait, Morocco and Pakistan were designated.
More interestingly, Afghanistan now holds the honor of being the only country that is both a Major Non-NATO Ally and the subject of a total arms embargo under section 126.1 of the International Traffic in Arms Regulations. So, you ask, what does this mean?
First, let's summarize the major statutory benefits of MNNA status. Countries given that status are eligible under the Overseas Workload Program to bid on contracts to overhaul, maintain and repair Department of Defense equipment located abroad. Section 21(g) of the Arms Export Control Act permits cooperative training agreements with countries designated as an MNNA. Section 65 of the AECA permits the Department of Defense to load equipment to an MNNA as part of a cooperative research program. Section 620G of the Foreign Assistance Act permits sale of depleted uranium ammunition to countries designated as an MNNA. Under various Foreign Operations Appropriations Acts, countries designated as MNNAs can use foreign military financing provided by the U.S. to lease defense articles from commercial suppliers. (See, e.g., section 589 of Public Law 106-429.)
None of these, or any other, provisions mean that MNNA designation would operate, by force of law or otherwise, to lift an arms embargo already in existence. Even so, there is not much point to any of these statutory advantages if the designated country is also subject to an arms embargo. Not surprisingly, the word on the street is that DDTC is preparing a federal register notice to modify the embargo as to the government of Afghanistan but leave it in place for non-governmental parties in the country.
---
*But Were Afraid To Ask. (Click here if you don't get this reference)

Permalink
Copyright © 2012 Clif Burns. All Rights Reserved.
(No republication, syndication or use permitted without my consent.)