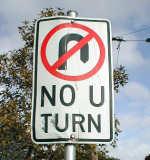 The Office of Foreign Assets Control ("OFAC") announced today that it was eliminating the general license for so-called U-turn transactions involving Iran. A U-Turn transaction, formerly permitted under section 560.516(a)(1) of the Iranian Transaction Regulations, is one which starts and ends with an offshore, non-US, non-Iranian bank.
For example, an Iranian entity could direct Deutsche Bank in Berlin to transfer funds from the Iranian entity's Deutsche Bank account in Berlin to Banque National de Paris in Paris. This might be done, for example, to pay for goods purchased by the Iranian entity in France. If the transaction was in dollars, it would likely transit Deutsche Bank's U.S. correspondent bank or some other bank in the United States, and the U-Turn exception would permit that to occur. Now that U-turn transactions are no longer permitted, the U.S. bank will reject the transaction.
Prior to this action, OFAC had blocked U-turn transactions involving two Iranian banks — Bank Saderat and Bank Sepah. The current action eliminates all U-Turn transactions involving all persons and entities in Iran. The most likely effect of the new rule is to encourage Iran to seek to settle its transactions in Euros or currencies other than the U.S. dollar.

Permalink
Copyright © 2008 Clif Burns. All Rights Reserved.
(No republication, syndication or use permitted without my consent.)