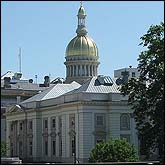 A committee of the New Jersey state senate and a committee of the state assembly both recently approved legislation that would prohibit the state from entering into contracts with companies that do business in Iran. I recently posted on Florida's efforts to do the same thing and expressed considerable doubt that Florida's statute could survive judicial review based on the Supreme Court decision in Crosby v. National Foreign Trade Council, 530 U.S. 363 (2000), which held that a similar Massachusetts law that penalized companies doing business with Burma was preempted by federal law.
The proposed New Jersey law, however, is somewhat different and may have a better chance of surviving an inevitable judicial attack. Section 202 of the Comprehensive Iran Sanctions, Accountability and Divestment Act of 2010 — or CISADA for any acronymophiles out there — explicitly permits state and local governments to impose certain limited sanctions on Iran. The initial draft of the Bill was quite broad and penalized a broad range of activities in Iran, including making an investment in any amount in the "energy, financial or construction sectors of Iran." However, before being approved by the two New Jersey legislative committees, the proposed law was amended to limit those activities which are permitted under CISADA to be a predicate for state and local sanctions, namely to an investment of $20 million or more in Iran's energy sector.
Bringing the law within the statutory confines of state sanctions laws permitted by CISADA would certainly seem to shield the law from a challenge that the state law was preempted by federal law. Whether it shields it from a constitutional attack that it is an impermissible foray by a state government into U.S. foreign policy matters is a different question.

Permalink
Copyright © 2012 Clif Burns. All Rights Reserved.
(No republication, syndication or use permitted without my consent.)