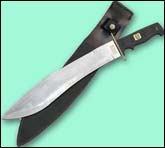 The Bureau of Industry and Security ("BIS") and the Directorate of Defense Trade Controls ("DDTC") have announced proposed reforms to Category X of the United States Munitions List ("USML"). Category X covers protective personnel equipment and shelters.
For those wondering about the title of the post, one aspect of the reforms has nothing to do with Category X. The proposed rules published by BIS indicate that machetes, favorite of many rebel forces and villains in teen slasher flicks, are to be classified as EAR99. Machetes are currently controlled under ECCN 0A988 and require licenses for exports to Iraq, North Korea and Rwanda. One of the advantages of taking machetes off of the Commerce Control List is that it would eliminate the need to figure out the difference between what is considered a machete controlled by the rule as opposed to a really big knife which, presumably, is not.
The thrust of the proposed reforms deals with hard and soft body armor. Currently body armor is controlled based on the level of protection as measured by the NIJ Standard, with types IIIA and below subject to BIS control under ECCN 1A005 and everything above that (Types III and IV) are on the USML in Category X. (A frequent source of confusion is the NIJ standard for Type IIIA is, somewhat counter-intuitively, below, and provides less protection than, Type III). Current controls do not depend upon whether the body armor was specifically designed for military use or not.
Under the proposed rules, soft armor that meets Type III standards or that is "manufactured to military standards" would be moved to the new ECCN 1A613. Hard armor plates meeting Type III standards would also be moved to the new ECCN 1A613. All Type IV armor would remain in Category X of the USML. The new ECCN 1A613 would be subject to NS Column 1 controls which are stricter than the NS Column 2 controls applicable to the body armor covered by ECCN 1A005. Items controlled under NS Column 1 require a license to all destinations other than Canada. The proposed rule would mitigate this restriction somewhat by making items controlled by ECCN 1A613 eligible for license exception STA which permits unlicensed exports, if certain other conditions are met, to a number of countries including most of Europe.
Probably the most significant of the proposed changes is that body armor, other than Type IV armor still on the USML, may now be exported under license exceptions TMP and BAG. This means that body armor may be exported, in checked luggage or separately, for personal use without the requirement for a license. There has been considerable public criticism of the current regime which makes it difficult, if not impossible, for U.S. employees travelling to dangerous destinations to carry protective gear with them.

Permalink
Copyright © 2012 Clif Burns. All Rights Reserved.
(No republication, syndication or use permitted without my consent.)