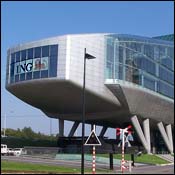 ABOVE: ING Headquarters
---
On June 12, 2012, ING Bank N.V. ("ING Bank") settled alleged violations of U.S. trade sanctions with the U.S. Department of Treasury's Office of Foreign Assets Control ("OFAC") for a record $619 million penalty. ING Bank's violations of OFAC sanctions involved more than $1.6 billion unlawfully routed through the United States despite U.S. sanctions.
ING Bank was accused by OFAC of violating the Cuban Assets Control Regulations, Iranian Transactions Regulations, Burmese Sanctions Regulations, the Sudanese Sanctions Regulations, and the now-repealed Libyan Sanctions Regulations by intentionally omitting information about those countries in SWIFT messages and wire instructions for more than 20,000 financial and trade transactions in U.S. dollars routed through the United States
The problems for ING started when ING became involved with a letter of credit issued by Iran's Bank Tejerat on behalf of Iran Air in connection with the latter's attempt to purchase a U.S. origin aircraft engine. The original beneficiary of the letter of credit was a Romanian company that then contacted ING's branch in Romania requesting assistance in transferring the letter of credit to the U.S. company selling the aircraft engine. As a result, ING contacted Bank Tejerat, which then amended the letter of credit to delete all references to Iran in the letter. ING's Romanian branch thereafter sent the letter of credit to the U.S. company selling the aircraft engine. When the U.S. bank charged with making payment on the Letter of Credit refused to do so based on a discrepancy in the letter of credit, the advising bank contacted ING in Amsterdam to try to resolve the situation. Thereafter, an employee of ING's branch in Romania informed the advising bank that the letter of credit related to Bank Tejerat, and the advising bank then reported the transaction to OFAC. Not surprisingly, this caused OFAC to open an investigation.
The Settlement Agreement noted that the Bank Tejerat transaction was the only transaction referenced by the Agreement that had not been voluntarily disclosed by ING to OFAC during the course of the investigation, although calling the information coughed up in response to OFAC's investigation as voluntarily disclosed probably stretches the meaning of the word "voluntary." Further, ING's cooperation was seen as a mitigating factor in reaching the $619 million penalty, although I have to confess it odd to see the concept of mitigation and a $619 million penalty co-existing in the same document.
The Settlement Agreement singles out for specific mention an email that ING's legal department sent to an ING employee who had raised his concerns with other employees about the legality of ING's practices used to permit U.S. dollar transactions with sanctioned countries and parties. That email stated:
[W]e have been dealing with Cuba for a lot of years now and I'm pretty sure that we know what we are doing in avoiding any fines. So don't worry and direct any future concerns to me so that we can discuss before stirring up the whole business.
OFAC's use of that email should also serve as a not-so-gentle reminder that the attorney client privilege is, at best, a fairy tale when it comes to dealing with administrative agencies and that lawyers should re-read everything that they write to their clients as if it were going to be ultimately read by an unfriendly bureaucrat intent upon taking money from the company's pockets and putting it into Uncles Sam's instead.

Permalink
Copyright © 2012 Clif Burns. All Rights Reserved.
(No republication, syndication or use permitted without my consent.)