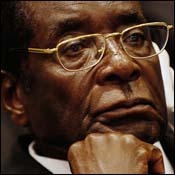 ABOVE:Robert Mugabe

---
Press reports from Zimbabwe suggest that Chicago-based insurance broker giant Aon may have gotten in hot water with the Office of Foreign Assets Control ("OFAC") by assisting in the provision of insurance to Mbada Diamonds, one of the two Zimbabwe diamond mining companies that was put on the SDN list by OFAC in December 2011. When adding Mbada to the SDN list, OFAC clarified that trading with Mbada had been illegal ever since the agency designated the Zimbabwe Mining Development Corporation in 2008 given ZMDC's controlling interest in Mbada. Obviously, many people had been trading with Mbada without knowledge of ZMDC's interest in the company, although anyone familiar with Zimbabwe should have been concerned about possible ownership by ZMDC given ZMDC's pervasive involvement in all aspects of Zimbabwe's natural mineral resources.
Although OFAC did not say as much, the issuance of this "clarification" with respect to Mbada Diamonds and Mrange Resources was likely prompted by reports of torture and forced labor in the diamond fields of Zimbabwe. Ironically, Zimbabwe had just received in November 2011 Kimberly Process certification permitting sales of some $2 billion of diamonds from the Mrange fields where the human rights abuses were alleged to have taken place. The Mbada Diamonds website now trumpets this certification along with claims of its own social responsibility and its support for the country's national soccer team.
Before you bring out the scythes and pitchforks and head off after the Kimberly certification process, it is important to understand what it does and does not do. The goal of the KP certification is to prevent trade in conflict diamonds which are defined as "rough diamonds used by rebel movements or their allies to finance conflict aimed at undermining legitimate governments." Obviously, whatever one may think of the human rights violations involved, these diamonds aren't being used by rebels to undermine legitimate governments. Indeed, they are being used to prop up a legitimate, albeit loathsome, regime.
According to the previously cited press reports, unnamed officials in Aon conceded that they had been providing insurance services to Mbada Diamonds. Of course, if this was being done through a company incorporated outside the United States and without the participation of U.S. persons, this would not have been prohibited by the Zimbabwe Sanctions Regulations. Although the Zimbabwe sanctions do not have the facilitation prohibitions which are found in many other OFAC regulations and which prohibit actions by U.S. persons that facilitate actions by foreign persons that would be illegal if done by U.S. persons, the regulations do have a provision that penalizes actions that evade the regulations. These evasion provisions are often interpreted broadly by OFAC to implicate U.S. companies for the activities of their foreign subsidiaries.

Permalink
Copyright © 2012 Clif Burns. All Rights Reserved.
(No republication, syndication or use permitted without my consent.)