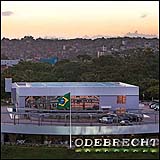 Odebrecht Construction, Inc., a U.S. subsidiary of the Brazilian firm Odebrecht S.A., filed suit on Monday in federal court asking the court to declare as unconstitutional a Florida law which prohibits the award of state and local contracts to companies with business in Cuba or Syria. The law, signed by Governor Scott last month, goes into force on July 1.
Odebrecht S.A. is currently involved in a massive renovation project for the port in Mariel, Cuba, which is destined to take all the commercial traffic from the port at Havana when the project is completed. The Florida subsidiary has been responsible for, among other things, improvements to the Miami International Airport in Florida.
Of course, the sustainability of the Florida law is in serious question after the U.S. Supreme Court's decision in Crosby v. National Foreign Trade Council, 530 U.S. 363 (2000). In that case, the Supreme Court struck down, on preemption grounds, a similar law passed in Massachusetts. The court's analysis focused in large part on the extent to which the Massachusetts law was broader than existing federal sanctions, specifically noting that the federal sanctions only covered new investments while the Massachusetts law targeted existing investments as well. Here, the U.S. sanctions do not cover the activities of Odebrecht, S.A., which is a non-U.S. person, while the Florida sanctions would reach those activities.
The press reports on the Odebrecht complaint indicate that the company is making a constitutional challenge to the law, which is an argument based on Congress's exclusive power to make U.S. foreign policy. The Crosby court dodged the constitutional issue and was decided solely on the basis of preemption. I have to assume that the Odebrecht complaint makes the preemption argument as well or at least will be ultimately amended to make that argument.

Permalink
Copyright © 2012 Clif Burns. All Rights Reserved.
(No republication, syndication or use permitted without my consent.)