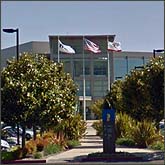 A recent story from Bloomberg indicates that California-based NetApp, which manufactures and sells network storage solutions, is under investigation by the Bureau of Industry and Security ("BIS") in connection with one of NetApp's storage devices winding up in Syria. The NetApp equipment was made part of a massive system built by Syria's Bashar al-Assad to intercept and review all email sent in Syria.
According to the story, the Italian company Area SpA, which built the surveillance system, bought the NetApp equipment from one of NetApp's distributors in Italy. Area then exported the equipment to Syria and incorporated it into the surveillance system.
That in and of itself would not have posed problems for NetApp or led to an investigation. However, the Bloomberg story reports, "workers for Area and NetApp communicated directly, e-mailing each other after the sale about configuring the equipment." That could indicate that NetApp knew of the sale before it occurred. More likely, if true, these emails might be construed as provision of services to the Syrian government which would have been problematic if they occurred after the Executive Order issued on August 17, 2011, banning export of services to Syria.
A NetApp spokesperson indicated that the company was finishing its internal review of the matter and declined to provide a comment to Bloomberg on the investigation.

Permalink
Copyright © 2012 Clif Burns. All Rights Reserved.
(No republication, syndication or use permitted without my consent.)