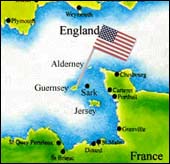 In today's civil penalty releases, the Office of Foreign Assets Control ("OFAC") announced a settlement with a U.K company, Genesis Asset Managers, LLP ("GAM"), arising from a purchase that one of its subsidiaries, Genesis Investment Management, LLP ("GIM"), also based in the United Kingdom, made on behalf of a Guernsey-based investment fund that GAM was managing. The investment in question was in a Cayman Islands fund that invested in exclusively in Iranian securities. GIM made the investment pursuant to a contract it had with GAM to provide investment advice to GAM with respect to GAM's management of the Gurnsey fund. The $3 million dollar investment by GIM in the Cayman Islands fund led to a $112,500 penalty imposed by OFAC on GAM. And, in case you are interested, GAM voluntarily disclosed the matter to OFAC.
You may be scratching your head, and rightly so, about what OFAC was doing futzing around in the business of U.K. investment managers and their advice to, and investment in, funds in island-based tax havens. Part of the reason appears to be that OFAC believed GAM to be a U.S. company, even though its website, linked above, shows the company to be based in the United Kingdom. There must be some connection to the United States — hence the voluntary disclosure and the fine — but OFAC is not letting on what it is.
But even if GAM is based in the United States, this is still a fairly tenuous basis to penalize GAM based on these facts. There is nothing in the OFAC announcement that indicates that GAM facilitated, or was otherwise involved in, U.K.-based GIM's purchase for a Gurnsey fund of shares in a Cayman fund. The release says that officers of GAM "were aware of the conduct giving rise to the apparent violation." But mere knowledge that a foreign affiliate engaged in a transaction for foreign companies involving Iran is not enough absent some finding that the GAM officers participated in or somehow facilitated the transaction.

Permalink
Copyright © 2012 Clif Burns. All Rights Reserved.
(No republication, syndication or use permitted without my consent.)