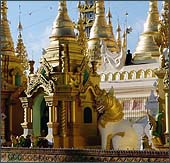 Yesterday, in remarks made by Secretary of State Clinton With Foreign Minister of Burma U Wunna Maung Lwin after the two met, Secretary Clinton announced that the United States was suspending its sanctions against Burma.
Sort of.
Here's what she said, which is the only official announcement so far of the new policy
Today, I am also announcing new steps to permit American investment in the country and export of U.S. financial services. These are the most significant adjustments to our previous policy that have been taken to date. The United States will issue a general license that will enable American businesses to invest across the economy, allow citizens access to international credit markets and dollar-based transactions.
Late in her remarks the Secretary indicated that the United States would maintain the arms embargo against Burma, which would prohibit sales of any item on the United States Munitions List to Burma.
But then came this curious exchange which suggested that the "general license" might not be so "general."
QUESTION: Secretary Clinton, regarding the easing of economic restrictions, will the – will U.S. companies be able to invest and trade with Myanmar state-owned companies, including in the oil and gas sector? And also, you talk about the corporate responsibilities of U.S. companies. Will these expectations be binding under U.S. law?

…

SECRETARY CLINTON: Well, thank you. First, let me say our presumption is that our companies will be able to deal in every sector of the economy with any business. That is a rebuttable presumption in the event that there is a company whose reputation, whose practices, are not in keeping with our stated policies of corporate responsibility or other matters that rise to our attention. But the presumption is that our oil and gas companies, our mining companies, our financial services companies are all now free to look for investments that can be mutually beneficial to Burma and to them.
Huh? Presumption? What part of "general license" do we not understand here? Perhaps Secretary Clinton means that if the U.S. doesn't like a particular investment made pursuant to the general license it can revoke this "presumption" and revoke the general license as to that transaction. That, of course, would mean that making a new investment in Burma would be more risky than most companies could tolerate. We will have to wait and see exactly what the general license says when it is issued.

Permalink
Copyright © 2012 Clif Burns. All Rights Reserved.
(No republication, syndication or use permitted without my consent.)