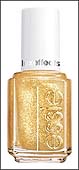 In the last release of civil penalty information, the Office of Foreign Assets Control ("OFAC") announced that it whacked Essie Cosmetics Ltd. with a whopping $450,000 fine for exports the company made to Iran in violation of the U.S. embargo on Iran. So what did Essie export to merit such an enormous fine? Uranium enrichment centrifuges? Missile guidance systems? No. Nail polish. Yes, you read that correctly: nail polish
The apparent violations relate to Essie and Individual's knowing sale and export of nail care products on or about September 17, 2009, December 8, 2009 and February 23, 2010, to an Iranian distributor pursuant to an Exclusive Distributorship Agreement in apparent violation of § 560.204 of the ITR.
Well, it must have been boatloads of nail polish, right? No.
The total transaction value for the three transactions settled with OFAC was $33,299.
I guess the thinking was that it is pretty hard to enrich uranium, build nuclear weapons, threaten our allies, and engage in general terrorist activities if you aren't wearing nail polish. I don't know about you, but I'll sleep better tonight knowing that a few people with unpolished nails are sitting at home rather than working on nuclear bombs.

Permalink
Copyright © 2012 Clif Burns. All Rights Reserved.
(No republication, syndication or use permitted without my consent.)