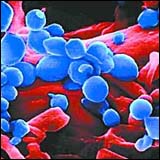 Apparently international research on how best to prevent, contain and treat bird flu is now threatened by international laws restricting export of information relating to potential agents of biological warfare according to this report on NPR. The problem concerns research conducted by researchers in the United States and the Netherlands which resulted in a controversial paper concerning alterations in the virus that would make it more contagious. There was some concern that this information might be useful to terrorists and rogue states interested in biological warfare agents.
To address this concern, the decision was initially made to restrict publication of the study and related materials and to make them available only to designated researchers and government officials with "a need to know." What apparently no one realized was that this would prevent the research from falling within the fundamental research exception and would, therefore, prevent cross-border discussions or transfer of the information without specific governmental authorization.
Once this was realized, the decision was made to eliminate the "need to know" restrictions and simply to publish the materials so that the research could be considered fundamental research and could be shared freely with researchers in other countries. But the government of the Netherlands is arguing that the publication of the research could not undo the effect of the earlier decision to restrict dissemination and that therefore the research could not be exported from the Netherlands without approval of that government.
This situation illustrates the difficulty in applying the fundamental research in practice. To begin with, there is no easy way to determine what is or is not fundamental research. Export lawyers and export professional at universities have tried to strengthen the case that research is eligible for the fundamental research exception by pointing to whether research was published or, even if not published, was permitted or required to be published under applicable grant contracts or university rules.
The conundrum here is whether sensitive material can be transformed into fundamental research simply by publication. If one group of researchers decides to release the information, does this act of a few individuals instantly transform the information into fundamental research? But if publication isn't the standard for deciding what is fundamental research, what other standards are available and who should be able to apply those standards? What these questions without answers demonstrate more than anything else is the slippery slope that we head down when we try to apply export controls to information. Rather we should rely on classification rules and procedures to control dissemination of truly sensitive information.

Permalink
Copyright © 2012 Clif Burns. All Rights Reserved.
(No republication, syndication or use permitted without my consent.)