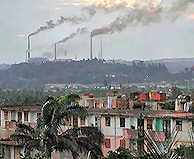 ABOVE: Nickel Production in Cuba
---
The latest release by the Office of Foreign Assets Control ("OFAC") of recent civil penalty cases reports that Minxia Non-Ferrous Metals, Inc., remitted $1,198,000 to settle allegations that between 2003 and 2006 it purchased or otherwise dealt in Cuban metals. The matter was not voluntarily disclosed to OFAC.
Even though this is the highest fine imposed this year and is substantially higher than the typical fine for a violation of the Cuba embargo, OFAC is, as usual, parsimonious about the details of what happened. The information provided above is all OFAC had to say about the matter. So what led to such a large fine? We can only speculate, but there are some things on which to base such speculations.
Minxia Non-Ferrous Metals is a subsidiary of China Antimony Chemicals Co., Ltd., which, in turn, is a subsidiary of China Minmetals Non-Ferrous Metals Co., Ltd., which is, in turn, a subsidiary of the giant Chinese metal conglomerate China Minmetals Corporation. This climb up the corporate ladder may reveal what had OFAC in a snit about Minxia's trades — namely, the $600 million joint venture between China Minmetals Corporation and Cuba to exploit Cuba's large nickel supplies. China is one of the largest consumers of nickel which is a key component of stainless steel, and nickel is Cuba's largest export — plenty there to get OFAC in a tizzy. In fact, the Bush administration announced a crackdown on nickel exports in July 2006, claiming that they constitute more than half of Cuba's foreign income.
Sadly for the Chinese, if this was the cause of the fine, the Chinese interest in the nickel joint venture was recently bought out by Venezuela in what may not have been an arms-length, consensual transaction.

Permalink
Copyright © 2008 Clif Burns. All Rights Reserved.
(No republication, syndication or use permitted without my consent.)