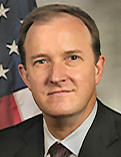 ABOVE: Kevin Wolf
---
Who says you never have gotten to talk to an Assistant Secretary of Commerce? Tomorrow, Wednesday, December 14, 2011, you can dial up Kevin Wolf at 2:00 p.m. to discuss the White House's current export reform proposals. The dial-in number for the conference calls will be 1-877-389-6079, Participant Code: 905168. BIS has announced that this will be the beginning of a weekly series of calls on export reform with Assistant Secretary Wolf that will take place each Wednesday at 2:00 pm EST.
There's only one small catch: Questions for Kevin should be sent in advance of the call to oesdseminar@bis.doc.gov with a subject line of "Teleconference questions." This is to avoid having someone from the Howard Stern show hijack the teleconference with inappropriate questions. (That, of course, isn't the real reason, but it would be a good one.)
The stated purpose of these calls is "to foster public understanding of the initiative and to assist interested parties to prepare more informed comments." I have been told by a reliable source that so far BIS has received almost no comments on these proposals and that BIS is very much interested in input from the export community. There are three public notices relating to the export control reform initiative with comment periods that are still open: the comment period for the notice on aircraft and related parts closes on December 22, 2011 (i.e. almost tomorrow) and the comment period for the notices relating to gas turbine engines and military vehicles closes on January 20, 2012.

Permalink
Copyright © 2011 Clif Burns. All Rights Reserved.
(No republication, syndication or use permitted without my consent.)