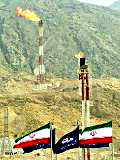 The White House signed, on November 19, Executive Order 13590, which increased the sanctions on foreign firms doing business in Iran. An official copy of the executive order has not been released but it is described in this "Fact Sheet" released by the Treasury Department. A State Department briefing held yesterday provides further background on the new sanctions.
The new sanctions expand on the sanctions on foreign persons dealing with the Iranian energy sector that started with the Iran Sanctions Act of 1996 and continued with last year's Comprehensive Iran Sanctions, Accountability and Divestment Act of 2010 ("CISADA").
Under CISADA, foreign persons can be sanctioned if they make investments that contribute to the development of petroleum resources in Iran. Investment is defined to exclude the simple sale of goods to Iranian petroleum companies. Under the new sanctions, the transactional amounts are reduced to $1,000,000 per transaction or $5,000,000 in a twelve-month period. Additionally, the new sanctions will cover the simple sale of goods in excess of these amounts.
The new sanctions now go beyond the petroleum industry in Iran and will include the petrochemical industry. Foreign companies will face sanctions if they provide goods, services, or technology to Iran that could "directly and significantly facilitate the maintenance or expansion of its domestic production of petrochemical products." The triggers for these petrochemical sales are even lower than the triggers for petroleum investments and cover a single transaction that has a fair market value of $250,000 or more or a series of transactions valued at $1 million or more over a 12-month period.
This blog has pointed out before that secondary boycotts of this sort violate U.S. obligations under GATT. The European Union filed a complaint with the WTO against the secondary boycotts contained in the Iran Sanctions Act, a complaint that was withdrawn when the Clinton administration agreed to use the national security exception in the Act to permit certain European investments in Iran. However, given all the accumulating evidence that Iran is in fact attempting to develop a nuclear bomb, it seems unlikely that the E.U. will seek a WTO remedy with respect to these new sanctions.
(For an excellent summary of Iran sanctions legislation, take a look at this excellent CRS study from October.)

Permalink
Copyright © 2011 Clif Burns. All Rights Reserved.
(No republication, syndication or use permitted without my consent.)