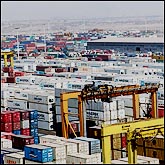 ABOVE: Bandar Abbas Port, Iran
---
I had an inquiry recently to list all of the Iranian ports managed by Tidewater Middle East which was recently placed on the list of Specially Designated Nationals and Blocked Persons List (the "SDN List") by the Office of Foreign Assets Control ("OFAC"). U.S. exporters legally shipping items such as food to Iran under the Trade Sanctions Reform and Export Enhancement Act of 2000 ("TSRA") need to know this because, as a result of the recent sanctions, such licensed shipments cannot go through ports managed by Tidewater. Only TSRA exports licensed prior to June 23, 2011, could transit those ports pursuant to a general license that expired on August 23, 2011.
OFAC, when announcing the sanctions, provided the a list of Tidewater ports affected by the sanctions not in the SDN list itself but in a separate press release:
Bandar Abbas (Shahid Rajaee Container Terminal)
Bandar Imam Khomeini Grain Terminal
Bandar Anzali
Khorramshahr Port (one terminal)
Assaluyeh Port
Aprin Port
Amir Abad Port Complex
The southern ports of Bushehr and Chabahar do not appear to be operated by Tidewater currently and, in theory, could be used for TSRA exports. I did, however, find other evidence, such as this, that suggested that Tidewater also operated at those two ports.
Interestingly, however, the Tidewater website appears to have disabled the pages that specify which ports it operates. The menu link for "Ports and Terminals Mng" is, oddly, dead and does not supply a list of ports operated by Tidewater. Presumably the only reason Tidewater would kill that link is to make compliance with the OFAC sanctions more difficult.
Frankly, there is no reason why the SDN list should name Tidewater only and not the specific ports that are sanctioned. Leaving such uncertainty with respect to available ports for TSRA exports improperly interferes with Congress's direction in TSRA that OFAC was to permit exports of agricultural products, medicine and medical devices to Iran.
UPDATE (11-4-11):An alert reader (Bradley Allen at ATTUS Technologies) found an earlier version of the Tidewater site on the Wayback Machine before Tidewater scrubbed the names of the ports it operated. Click on the tabbed link for "Port and Terminals Mng" and you'll get, in this older version, a list of Tidewater's ports. This confirms that one of Tidewater's responses to the U.S. sanctions was to try to obscure and conceal which ports it operated.

Permalink
Copyright © 2011 Clif Burns. All Rights Reserved.
(No republication, syndication or use permitted without my consent.)