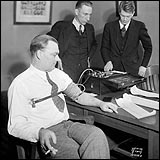 Here I had thought that we had shamed most companies from issuing those grandiloquent press releases claiming that ITAR registration from DDTC constitutes incontrovertible proof that the company can leap tall buildings in a single bound, synthesize gold from base metals and recite the entire text of the International Traffic in Arms Regulations by heart. Backwards.
Then comes along Toronto-based SMTC announcing its registration with this whopper:
Companies receiving this certification must have the knowledge and understanding to fully comply with ITAR regulations and demon-
strate that they have implemented corporate procedures and controls to ensure compliance.
Maybe it's because they are a Canadian company and just don't know any better?

Permalink
Copyright © 2011 Clif Burns. All Rights Reserved.
(No republication, syndication or use permitted without my consent.)