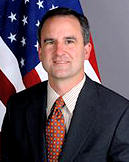 Defense News published yesterday an interview with Frank Ruggiero, Deputy Assistant Secretary (DAS) for Defense Trade and Regional Security in the Bureau of Political-Military Affairs. Mr. Ruggiero oversees all defense exports from the United States, including Direct Commercial Sales and Foreign Military Sales. And he had several interesting things to say.
First, he reported that pursuant to National Security Presidential Directive No. 56, the Directorate of Defense Trade Controls has significantly streamlined processing times:
In summer 2007, we had nearly 700 licenses that were over 60 days. As of April 16, that's down to 67. An average license takes about 18 days to process, a 50 percent reduction from last summer. We've also dropped backlog by 50 percent.
Second, Ruggiero suggested that licensing policy might be used to retaliate against foreign defense firms that produce defense articles free of U.S.-origin goods in order to trade with China and other countries that are subject to arms embargoes or strict licensing policies:
Q. Your office can veto the export of foreign-made items that use controlled U.S. parts or technologies, which has led some firms, such as France's Thales and Italy's Alenia, to develop satellites free of American components for sale to China. Is that a concern?

A. We are monitoring the circumstances and analyzing what International Traffic in Arms Regulations (ITAR) items we may have authorized to such companies to make sure those items are in fact not being incorporated into ITAR-free products. We would certainly factor into any future licensing determination the activity of a foreign company in terms of licensing ITAR-free items to countries that may raise potential national security risks to the United States.
That's one way to expand the scope of U.S. export laws, I suppose.

Permalink
Copyright © 2008 Clif Burns. All Rights Reserved.
(No republication, syndication or use permitted without my consent.)