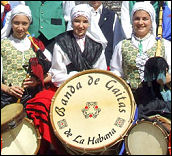 If you've been staying awake at night worried about Cuban terrorist attacks in your neighborhood, you can sleep better now. The Office of Foreign Assets Control ("OFAC") has denied a request by Irish-American musicians to travel to Cuba to learn terrorist-influenced dance steps at the Second Annual Celtic Festival in Cuba. In addition to fighting international terrorism, the OFAC decision will also prevent the lavishly wealthy American Celtic musicians from spreading their vast sums of money around in Cuba, which would, if permitted, have further propped up the current regime there.
The artists applied for a license, which OFAC denied on April 7, barely a week before the festival in Havana was to begin. The festival, sponsored by Cuba and Culture Ireland, features Celtic musicians from Ireland and Cuba. (Somewhat remarkably Cuban descendants of immigrants from Gaelic provinces in Northern Spain maintain a lively tradition of Celtic music in Cuba).
According to the above-linked report in IrishCentral.com, the license was denied because it went "beyond the scope of what was authorized" in the 2004 Guidelines on Cuba travel issued by the Bush administration as part of an initiative to cut back on U.S. travel and personal remittances to Cuba. Although the IrishCentral report doesn't indicate how the request exceeded those guidelines, it is not hard to figure out.
Licenses are not granted to individuals to participate in Cuban-organized international festivals inasmuch as the proposed participation goes beyond the direct, bilateral interaction between U.S. and Cuban nationals contemplated by this licensing provision.
In other words, the Irish-American musicians can't go to the Cuban festival because there will be Irish people there.
Back in January 2011, President Obama announced that the travel guidelines would be amended "[t]o enhance contact with the Cuban people and support civil society through purposeful travel, including religious, cultural, and educational travel." The Cuba page on the OFAC website footnotes the link to the 2004 Guidelines with the statement that they are "presently being updated to reflect January 2011 policy changes." The denial of this license suggests that the revised guidelines will retain the silly requirement that cultural exchanges in Cuba may only be bilateral. No Irish (or other foreigners) need apply — as they used to say.

Permalink
Copyright © 2011 Clif Burns. All Rights Reserved.
(No republication, syndication or use permitted without my consent.)