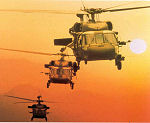 An interesting article in yesterday's edition of The Birmingham News provides some further details on the unsuccessful prosecution of an Iranian-American defense contractor in Huntsville that was the subject of a previous post on this blog. As we noted in that post, the prosecution's case collapsed when it was revealed that one of the prosecution's chief witnesses had pleaded guilty to forging checks from the company that she was now accusing of export violations.
But that's not all that sank the prosecution. According to article in The Birmingham News, the drawing of the Black Hawk that had been sent to China was apparently available on the Internet:
The Black Hawk drawing Alex Latifi was accused of sending to China also backfired on the government. A prosecution witness conceded that it wasn't marked with customary warnings barring it from being sent to trading partners subject to arms control laws. And the argument by Latifi's lawyers that the Black Hawk plans were in the public domain, which would exempt them from certain arms-control provisions, dogged the prosecution.

"Hang on, I have not heard about that before," trial judge Johnson said as Alex Latifi lawyer James Barger cross-examined a government witness on the trial's fifth day. "These drawings are on the Internet?"
We'll have to take this claim at face value, although I have to say that I couldn't find detailed schematics of the Black Hawk on the Internet. I found some indication, however, that Sikorsky may once have made certain schematics available that way, but these have since disappeared from the Sikorsky website (WARNING: annoying audio at link). But if those documents were public domain as alleged, it is hard to say why the prosecution filed the case.
The defense lawyers, however, are keeping the government's feet to the fire even after the acquittal by filing a motion under the Hyde Amendment (18 U.S.C. § 3006A Note).
[The] lead lawyer, Henry Frohsin of Birmingham's Baker, Donelson, Bearman, Caldwell & Berkowitz, has filed a claim for compensation from the government called a Hyde motion. It's based on a 1997 law that allows acquitted federal criminal defendants to argue the Justice Department engaged in wrongful prosecution and collect whatever money they spent on their legal defense. …

Frohsin said … "If this doesn't qualify as a vexatious, misguided prosecution, then nothing will."
(As full disclosure, I was interviewed by the Birmingham News reporter and am quoted in the article.)

Permalink
Copyright © 2008 Clif Burns. All Rights Reserved.
(No republication, syndication or use permitted without my consent.)