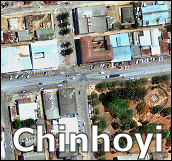 According to an article in The Herald, the state-controlled newspaper of Zimbabwe, the Office of Foreign Assets Control ("OFAC") refused to unblock $30,000 that a U.K. couple wired to purchase land in Chinhoyi Municipality, Zimbabwe, and that was blocked by HSBC. The funds were blocked by HSBC because they were wired to an account that the municipality maintained at the ZB Bank, a bank which has been designated by OFAC under the Zimbabwe sanctions program.
A letter from an OFAC official explained the agency's decision not to unblock the funds by saying that U.S. financial institutions are required to "block all wire transfers in which a sanctions target has an interest and that come within the institution's possession or control, even if the institution is an intermediary and an underlying transaction does not otherwise involve a person subject to US jurisdiction." Section 541.201 of the Zimbabwe sanctions does require the blocking of "property or interests in property of" designated entities that come within the control of U.S. financial institutions or their overseas branches. And section 541.308 of the Zimbabwe sanctions regulations defines property broadly enough to include wire transfers of funds.
But that hardly ends the inquiry. The wire transfer can only be blocked if it is the "property or [an interest] in property of" the intermediary financial institution, in this case, ZB Bank, Ltd. Nothing in OFAC's regulations anywhere defines "property of." And it stretches any conceivable meaning of that term to say that the funds being wired were the property of the bank rather than the property of the U.K. couple and/or Chinhoyi municipality. If that's not clear on its face, consider this: if I had a judgment against ZB Bank (leaving aside the blocking issue), could I get a court anywhere in the world to allow me to levy on the wire transfer in this case? Of course not.
OFAC might be free to promulgate a regulation blocking funds that are about to come into the possession or control of a blocked person or entity, which it hasn't done here or anywhere else. But the agency is not free to say that words such as "property of" mean something that those words simply don't mean or to say that bank accounts are "property of" the bank. And once OFAC engages in such behavior, is the agency any better than the tin-pot dictator that the U.S. seeks to sanction?

Permalink
Copyright © 2011 Clif Burns. All Rights Reserved.
(No republication, syndication or use permitted without my consent.)