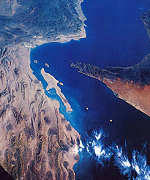 Satellite image of the Strait
of Hormuz
---
A wire story from Agence France Presse today documents the extent to which trade between Iran and the UAE may be circumventing unilateral U.S. sanctions against Iran:
Thousands of Iranian firms are still doing business in the country's top trading partner, the United Arab Emirates, despite a US drive to choke Tehran's economy over its controversial nuclear program. But US banking sanctions are also beginning to bite, industry sources say.
The AFP reporter interviewed Nasser Hashempour, executive deputy president of the Dubai-based Iranian Business Council, who provided one of the reasons the sanctions weren't having much impact on trade between Dubai and Iran:
Iranian businesses "have not had any problem with local banks because we are considered UAE companies" under local rules requiring at least 51 percent of a business to be owned by an Emirati national, said Nasser Hashempour. …

The same goes for fully Iranian-owned firms operating out of free zones "because they are registered in the UAE and their sponsor is the free zone," which would pull their licenses if they flouted the rules, he told AFP.
The article goes on to point out that almost 10 percent of the population of Dubai is Iranian and that almost 10,000 Iranian firms are doing business in Dubai.
But the real reason that the sanctions may not have stopped trade in U.S.-origin goods between Dubai and Iran is that Dubai has no interest in making it stop according to a UAE official who, not surprisingly, requested anonymity:
As for unilateral US sanctions, these would have to be applied by private banks and companies and "it is not for the UAE government to tell private companies what to do," the official added.
That doesn't appear to be what officials of the UAE were telling the U.S. government when they convinced U.S. officials not to put the UAE on Schedule C to the EAR as a country of "diversionary concern."
Bottom line for exporters: it's probably a bad idea to export an item to the UAE unless you have a pretty good reason to believe it's going to stay in there

Permalink
Copyright © 2008 Clif Burns. All Rights Reserved.
(No republication, syndication or use permitted without my consent.)