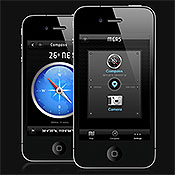 You may think that the only really military application for your iPhone involves using a slingshot to launch some irritated birds at shelters harboring egg-stealing pigs, but you'd be wrong. Army Captain Jonathan Springer used $26,000 of his own funds to develop Tactical Nav, an iPhone app designed to assist soldiers on the field of battle to determine and relay accurate coordinates to other soldiers, whether for the purpose of accurately targeting a nest of Taliban fighters or in order to send medical aid to wounded U.S. forces.
Explaining Tactical Nav's functions, Springer said it allows soldiers to map, plot and photograph navigational points on a battleground and coordinate efforts with supporting units. Another feature includes a night mode, which turns the screen to red for easier visibility.

Springer tested each of these features for accuracy, using a combination of military vehicles, remote observation posts and harsh combat conditions.

Pleased with the outcome of his efforts, Springer said, "We took it from paper to what it is now … we're very blessed and fortunate that is seems a good asset."
Springer expects the app to be in the iTunes store for sale in February.
So here's the question. Will Apple get a visit from the folks at DDTC if someone who is not a U.S. citizen or permanent resident or who is not in the United States downloads this app? After all, it was specifically designed for battlefield use and was tested with battlefield equipment.
I haven't fully thought through this issue, but my initial view is that the software may not be an ITAR-controlled item. Obviously, being designed or modified military use is not alone sufficient for an item to be on the United States Munitions List. The item must still be in a category set forth in the USML. Section 120.10 of the ITAR defines "technical data" to include software but only if "directly related to defense articles." The iPhone itself isn't a defense article. The only other time I see software called out specifically in the USML is category XIII for military cryptography, also not relevant to this app.
I haven't fully analyzed this, so I could be wrong. Share your thoughts in the comments section.

Permalink
Copyright © 2011 Clif Burns. All Rights Reserved.
(No republication, syndication or use permitted without my consent.)