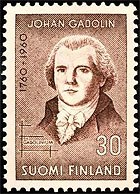 ABOVE: Johan Gadolin,
discoverer of yttrium
---
China Daily is a great source of unintentional humor, and I really wish I had more time to peruse it. I did stumble across a recent opinion piece in China Daily on the rare earth export issue and, not surprisingly, there is much to snicker about in it, unless, of course, your business depends on the availabilities of the lanthanides, known to us non-technical sorts as the rare earth elements.
China initially justified its restrictions on exports of the lanthanides as a measure to encourage companies using lanthanides to relocate to China. Article XI of the General Agreement on Trade and Tariffs generally prohibits export quotas unless they fall within the exceptions set forth in Section 2 of Article XI or Article XX. Not surprisingly, efforts to distort international trade by forcing companies to relocate to the country imposing the quota is not within the exceptions set forth in GATT.
Somewhat later China began to cite the environmental impact of rare earth mining as a justification for the quotas. That argument was easily dismissed as a transparent ruse because China imposed no restrictions on rare earth mining for domestic use, no matter how loudly they complained the foreign exports of rare earths were killing Chinese workers.
Now, the article referenced by this post attempts to concoct another justification for its export quotas: national security. The article starts with a slam at the Wassenaar Arrangement which it claims is some kind of anti-socialist conspiracy by capitalist Western nations and a broad-based justification for China to impose any export controls it can dream up:
Export regulation was originally introduced for security issues. After World War II, the United States and other countries established the Coordinating Committee for Multilateral Export Controls (COCOM) against socialist countries; its successor, in effect today, is the Wassenaar Arrangement on Export Controls for Conventional Arms and Dual-Use Goods and Technologies.

In recent years the restrictions have become ever tighter. On June 19, 2007, the US Ministry [sic] of Commerce listed more than 2,500 kinds of technologies, devices, and materials banned [sic] for export to China.
Those familiar with the 2007 rule cited by China Daily, may wonder where the author came up with the idea that 2,500 kinds of technologies were banned for export. The rule imposed certain new license requirements for dual use items destined for use by the Chinese military but did not ban those exports. There were bans on items controlled for nuclear proliferation, missile technology, or chemical and biological warfare that would contribute to major Chinese weapons systems, but the 2,500 number is more than a little high as an estimate of the number of technologies involved.
More importantly, China's claim that these restrictions are premised on national security would be more convincing if it had been its initial justification. And, of course, the Wassenaar list, which represents not a capitalist conspiracy but a multilateral consensus of strategic goods that require export controls, would permit China to exert export controls on the items on that list, items that don't include the lanthanides.

Permalink
Copyright © 2011 Clif Burns. All Rights Reserved.
(No republication, syndication or use permitted without my consent.)