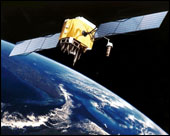 A recently unsealed criminal complaint filed in federal district court in Seattle provides a wealth of details on the criminal export prosecution of Lian Yang, a software engineer living in Woodinville, Washington. According to the allegations of the complaint, Yang, who was caught in an undercover sting, attempted to illegally export ITAR-controlled satellite components to the PRC without the required export license.
Yang initially approached a confidential source and told him that he had "old school friends" in China who were making money importing electronic parts and that there was a financial opportunity in selling those parts to them. Yang indicated that some of the parts that his friends wanted might be export-controlled, but that he didn't want to do anything illegal. Yang then provided a list of the items he was seeking which included an ITAR-controlled satellite component. Two days later the confidential source was in contact with the FBI.
At the behest of the FBI, the confidential source put on a wire and continued to work with Yang on Yang's plan to acquire and export the satellite parts. Of course, a criminal conviction would require proof that Yang knew that it was illegal to export the items in question. According to the complaint, Yang requested that the parts be shipped under false invoices that concealed the actual parts in the shipment. Additionally, the complaint alleges that Yang was contemplating further concealing the nature of the parts by effacing the part numbers printed on them.
The undercover agents then became involved in the investigation as the supposed supplier of the parts. Yang wired the negotiated price into an account set up by the agents, who arrested Yang at the meeting at which they were to deliver the parts.
Oddly, at one point, the undercover agents told Yang that there would be delay in the delivery of the parts. The delay, they said, "is with the government," further stating that the "compliance paperwork" was "waiting to be reviewed and signed." This will certainly complicate the government's proof that Yang had criminal intent and knew that the export of the items was illegal. It's not clear what innocent reason the government had for suggesting that the transaction was being reviewed by the U.S. government.

Permalink
Copyright © 2010 Clif Burns. All Rights Reserved.
(No republication, syndication or use permitted without my consent.)