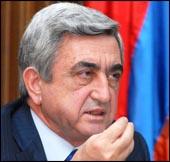 ABOVE: Armenian President Serzh
Sarkisian
---
According to one of the Wikileak cables published by the Guardian, Armenia, in 2003, sold machine guns and rockets to Iran which were later used in a fatal attack on U.S. forces in Iraq by Shia militants. Secretary Rice discussed this with Armenian President Serzh Sarkisian, who denied any involvement in the arms transfer.
In December 2008 the State Department sent a letter to Sarkisian threatening U.S. sanctions on Armenia unless Armenia signed a written agreement that it would undertake certain specified steps to prevent further arms transfers to Iran or other terrorist states. Those steps were to include:
Adopt the Wassenaar Arrangement control lists
Ensure that Armenian-based brokers aren't involved in arms transfers
Accept periodic unannounced inspections by the United States
Consult with the United States on all arms transfers to countries that are not members of NATO, the E.U., or the Wassenaar Arrangement.
There is no indication that Armenia entered into such an agreement other than, of course, the absence of current U.S. sanctions against Armenia.

Permalink
Copyright © 2010 Clif Burns. All Rights Reserved.
(No republication, syndication or use permitted without my consent.)