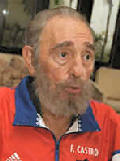 . . . especially when the newspaper is Granma, the official daily "newspaper" of the Cuban government.
Export law news being somewhat slow in these final weeks of August, I thought it might be amusing to see what Granma had to say about the OFAC fine imposed on Travelocity for booking 1,458 trips to Cuba. And Granma, as usual, did not disappoint:
La administración Bush ha recrudecido la aplicación del cerco a la mayor de las Antillas, con especial ensañamiento contra su industria turística, el bloqueo se extiende incluso a los medicamentos y tecnologías de la salud, lo que constituye un ensañamiento criminal contra el pueblo de la Isla.
Which in my rough translation reads:
The Bush administration has strengthened the application of the embargo against Cuba with particular force against the Cuban tourist industry. The blockade also extends to medicine and health-care technology, constituting criminal brutality against the people of Cuba.
I guess if you're going to lie, there's no reason to waste the effort on a little fib. Just go ahead and tell a whopper. As many faithful readers know, after the passage of the Trade Sanctions and Reform Act of 2000, the embargo was lifted on medicine and medical devices.

Permalink
Copyright © 2007 Clif Burns. All Rights Reserved.
(No republication, syndication or use permitted without my consent.)