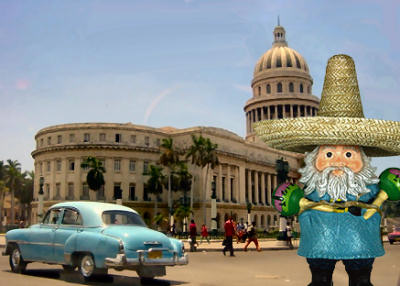 The new OFAC penalty disclosure for August came out on Saturday with some embarrassing news about Travelocity's Roaming Gnome. Seems that for for six years, between 1998 and 2004, the Travelocity site booked 1,458 reservations for travel to Cuba. The gnome, or rather his employer Travelocity, agreed to a fine of $182,750.
The report of the Travelocity fine follows the general OFAC "the less you know the better" policy and reveals no more about the violation than described above. But some educated guesses can be made. First, the violation was not voluntarily disclosed because the OFAC report almost always notes that fact if there has been a voluntary disclosure. Second, given the time frame, this violation probably involved Travelocity booking trips to Cuba through the sites of its foreign subsidiaries.
You may remember this letter which OFAC sent in 2002 to an unidentified company that operated travel websites in the United States and in foreign countries. That company (probably Travelocity, Orbitz or Expedia) had sent a letter to OFAC requesting OFAC to declare that those operations were permissible or, alternatively, to issue a license to cover them. In OFAC's responding letter, OFAC asserted that the Cuban Assets Control Regulations apply to overseas subsidiaries and that the Berman Amendment's exception for information didn't apply to actually booking reservations but only to providing information about available flights. Accordingly OFAC held that the company's overseas operations violated the CACR and declined to issue a license to permit such operations.
It's now pretty safe to assume that the 2002 OFAC letter did not involve Travelocity. Travelocity appears not to have disclosed the violations leading to the fine, and the company involved in the 2002 letter had at least fessed up to its overseas operations. (My money is on Expedia, and not Orbitz, given the length of the whited-out references to the company in the letter.)
One part of the letter has an intriguing passage:
Your letter indicates that there are many U.S.-owned or controlled companies located in third countries that engage in providing travel services. OFAC has not granted a license authorizing any such companies to provide services associated with the tourism and business travel of third country nationals to Cuba. If you have specific information concerning apparent violations of the CACR by such companies, you may submit the information, preferably in writing, to the attention of OFAC's Chief of Enforcement.
Does anybody else wonder if Expedia (or maybe Orbitz) snitched on Travelocity?
In other OFAC penalty news, the August disclosure indicates that your tax dollars are still being spent on fining individuals who bought Cuban cigars over the Internet, with one individual being fined $999.45 and another $510.00. Given what's involved in the penalty process, it's safe to assume that these fines won't recoup the time spent by OFAC enforcement staff on chasing down the stogie-puffing miscreants, sending penalty notices and negotiating a settlement. Shouldn't OFAC be chasing terrorists or something?

Permalink
Copyright © 2007 Clif Burns. All Rights Reserved.
(No republication, syndication or use permitted without my consent.)