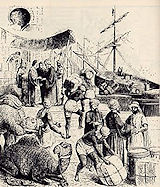 United Source One, Inc., a Maryland-based food logistics company specializing in food shipments to restaurants in the Middle East, agreed in March to pay a $19,800 penalty to the Bureau of Industry and Security ("BIS") for violating BIS's anti-boycott regulations. The company was charged with failing to report five boycott-related requests, all more or less similar to this request to provide:
[a] [c]ertificate issued by the owners, agents or master of the vessel carrying the goods stating that the vessel carrying the goods is allowed to enter the Arab port as per laws and regulations of such states.
Seasoned readers of this blog who read this post back in 2008 will immediately recognize the problem — the word "agent." As we noted in that post, under Supplement 1 to the antiboycott rules:
the owner, charterer, or master of a vessel may certify that the vessel is "eligible" or "otherwise eligible" to enter into the ports of a boycotting country in conformity with its laws and regulations.
This would prevent a certification from an agent, but since United Source One isn't accused with complying with the boycott, it is clear that the certificate must have come, if actually supplied, from the owner, charterer or master of the vessel.
But even if United Source One didn't provide prohibited boycott information, these is still the question as to whether the request was reportable. Under section 760.5(a)(5)(viii) of the antiboycott rules, an exporter need not report:
A request to supply a certificate by the owner, master, charterer, or any employee thereof, that a vessel, aircraft, truck or any other mode of transportation is eligible, otherwise eligible, permitted, or allowed to enter, or not restricted from entering, a particular port, country, or group of countries pursuant to the laws, rules, or regulations of that port, country, or group of countries.
Since the request went beyond a certificate by the owner, master, charterer, or any employee and permitted a certification from the agent. The operative logic here (and I use the word "logic" very loosely here) is that if the agent makes the certification this is not a certification that the agent is complying with the laws of the country involved but is instead a certification that the agent isn't doing business with anyone subject to the boycott.
Don't try to spend too much time trying to make sense of this distinction unless you want to risk having your brain explode.

Permalink
Copyright © 2010 Clif Burns. All Rights Reserved.
(No republication, syndication or use permitted without my consent.)