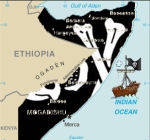 Last week I posted on the new Somalia "smart" sanctions and noted that the concerns by the maritime industry that the new sanctions would prohibit ransom payments were unfounded. The industry was concerned that language in the executive order, which permitted designations of persons engaged in piracy off the coast of Somalia, would prohibit payments of ransoms to pirates.
Most marine hull insurance covers piracy as does Institute Cargo Clause A. Even under Cargo Clauses B and C, insurers may still be required to contribute to ransom payments under the general average rule. Accordingly, because shippers and vessel owners have insurance coverage paid for and available to pay the ransom, they are anxious not to lose that benefit (or their crews or goods) as a result of any interference by OFAC with ransom payments.
I indicated that these concerns were unfounded because the executive order forbids payments to parties already designated for piratical activities. If a pirate demanding ransom hadn't been designated yet, nothing in the order would forbid payment of ransom to that pirate or pirate crew. (Of course, it is a little surrealistic to imagine that a vessel owner would demand the pirate's name and run it against the SDN list before making a ransom payment.)
On April 16, during a meeting with maritime industry officials, a senior government official confirmed my position, namely, that only payments to designated individuals were prohibited by the order. Nothing in the order prohibited ransom payments to pirates in general.
But the bad news is that the official indicated that vessel owners should consult with OFAC before making any payment where the order "might" apply. Because the pirates demanding ransom presumably don't give their names (or even aliases such as Blackbeard or the like), the order "might" apply to any proposed payment of ransom to pirates.
The utility of meeting with OFAC in such cases certainly doesn't outweigh the increased danger to crew lives caused by the consequent delay. This is particularly true given that OFAC is unlikely to agree that it won't pursue criminal or civil penalties should one of the pirates turn out to be a designated individual.

Permalink
Copyright © 2010 Clif Burns. All Rights Reserved.
(No republication, syndication or use permitted without my consent.)