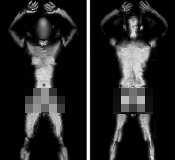 Millimeter wave technology brings to life, after a fashion, the dream of many a teenage boy to buy special X-ray glasses that would see through clothing. Pictures of a typical millimeter wave scan illustrate this post on the right, appropriately pixellated, of course, to spare the delicate sensibilities of our gentle readers. An explanation of the technology can be found here.
On March 25, the Bureau of Industry and Security ("BIS") issued a final rule restricting exports of "concealed object detection equipment" using millimeter wave technology. The new rule applies regional stability controls, and specifically column 2 of those controls, to export of these devices. This means that exports of these devices to such non-NATO destinations as Barbados, Costa Rica, South Africa, Switzerland, and Senegal will require BIS licenses. Certain countries controlled for RS-2 reasons are spared the licensing lash. These countries are Austria, Cyprus, Finland, Ireland, Israel, Malta, Mexico, Singapore and Sweden. For those countries, license applications to government end-users will be subject to a presumption of approval. Licenses to other RS-2 destinations will be considered favorably on a case-by-case basis.
Of course, the reason for controlling the exports of millimeter wave scanning machines and technology is presumably to try to keep the machines out of the hands of people who could use the machines or technology to develop counter-measures. The problem with this argument is that terrorists have already developed a simple method of defeating these machines, which involves, gruesomely enough, the placement of explosive devices in internal cavities. The counterbalancing factor to imposing these controls is that making it more difficult for foreign airports to obtain these devices could endanger the lives of Americans travelling through those airports. Almost every popular Caribbean destination requires a license for exports of these machines.

Permalink
Copyright © 2010 Clif Burns. All Rights Reserved.
(No republication, syndication or use permitted without my consent.)