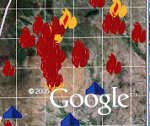 The United States Holocaust Museum joined with Google Earth in a project called "Crisis in Darfur" to document the genocide in Darfur. The project pinpoints, through a series of overlays on a Google Earth map, the precise location where each of the massacres in Darfur has occurred.
According to the Holocaust Museum's website on the Crisis in Darfur project:
Crisis in Darfur enables more than 200 million Google Earth users worldwide to visualize and better understand the genocide currently unfolding in Darfur, Sudan.
Unless you happen to live in Sudan.
As reported in this article in the Sudan Times, soon after the Crisis in Darfur project came online, aid workers in Sudan reported that they were unable to download Google Earth, which is required to view the project. An email from a Google spokesperson to the Sudan Times reporter revealed the reason:
In accordance with US export controls and economic sanctions regulations, we are unable to permit the download of Google Earth in Sudan.
The spokesperson is right. The current Sudan sanctions program prohibits the export of Google Earth software to Sudan. Because of the interactive features of software, it is hard to argue that the information exception applies.
Needless to say, the absurd results of economic sanctions in this instance are clear. The major beneficiary from the prohibition of downloading Google Earth in Sudan, to the extent the ban is successful, is the government of Sudan, which is busy trying to deny or minimize the extent of the catastrophe unfolding in Darfur.
On the other hand, the application of the Sudan sanctions to the download of Google Earth also illustrates the futility of sanctions in this regard. An Internet surfer in Sudan can easily use an anonymous proxy service to conceal the geographic location of the download request.
Excuse me, OFAC, you have a call on line 3. It's the 21st Century calling.
(Thanks to reader Creighton Chin who sent me a copy of the Sudan Times article.)

Permalink
Copyright © 2007 Clif Burns. All Rights Reserved.
(No republication, syndication or use permitted without my consent.)