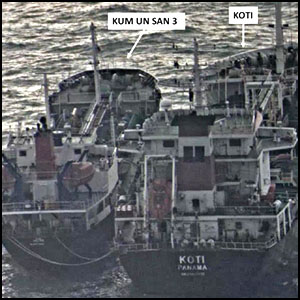 Today OFAC designated one individual, 27 shipping companies and 28 ships that it asserts have been involved in circumventing sanctions against North Korea, principally by engaging in ship-to-ship transfers where prohibited goods are transferred in mid-ocean to North Korean vessels which then carry those goods to North Korean ports. The picture on the right, released by Treasury today, shows such a ship-to-ship transfer.
The President characterized these as the "largest ever" imposed on North Korea, a reference, I suppose, to the number of entities sanctioned rather than the likely actual impact of these sanctions.  Executive Order 13570, issued in 2011 by the previous administration, forbids all imports from North Korea. As a result, since 2011, North Korean ships, including those designated today and those still undesignated, cannot call in U.S. ports. Thus, it's not clear what impact designating a bunch of Nork ships will have.
Moreover, the designation does not prohibit non-US companies — such as those from Russia, which escaped any designations today — from dealing with these newly designated ships. Of course, if detected, such non-US vessels and shippers might themselves be sanctioned, so there may be some deterrent effect. But it's hard to say how significant that deterrent effect will be. After all, the 11 non-Nork shipping companies caught up today in OFAC's new designations certainly knew that they were running that risk when they decided to offload cargo to North Korean vessels in mid-ocean or otherwise try to skirt sanctions on North Korea. Moreover, they did so despite UN Security Council Resolution 2375, section 11 of which prohibits ship-to-ship transfers of goods bound for North Korea.  And the 16 North Korean shipping companies singled out in OFAC's announcement, which could not deal with the United States even before the designation, are unlikely to be affected by their new status as SDNs.
So while I certainly applaud these designations, I don't think their impact should be oversold.